Boots (aka "The Dude")
Born October 1980 and Died October 15, 2001
Boots Randolph Quanstrom was my cat for 21 years. While he had some physical problems at the end, he was in great shape until about 2 years before his death. I was very lucky to have had him in my life for so long. I know that taking care of him his last year of life has taught me many valuable lessons which will aid me in dealing with life's little headaches. I miss him very much.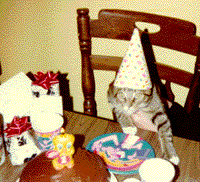 Boots' First Birthday
Some people said that Boots was just like me, because he wasn't shy. When people came to visit me, he jumped up on the sofa and smelled them, and often times gave them a head butt. Boots knew two tricks that I taught him when he was about 1 year old. First, he knew how to sit on command. After he was sitting, I would have him shake hands. When I first taught him to shake he always tried to use his left hand (I think he was left handed, because he scratched on the window with that hand), so I had to work with him to use his right. Most people are truly amazed that a cat can be taught to do tricks, but most animals can be motivated with little treats.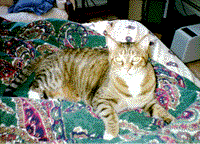 Boots just hanging out
Boots was very active, really hyperactive, up until about 16 years of age. I think that's what kept him going. As they say, move it or lose it, and I think he wouldn't have lasted as long without being physically fit. Another thing that kept him going was hydration. I didn't start doing this until about a year before his death. I hydrated him with 100 ml. of Normosol-R. The fluids brought lustre back to his coat. I learned another great lesson from all of this: stay hydrated. So I try to drink as much water as I can each day. Most of the time I'm not very good about it, because I don't get 8 glasses a day, but at least I try.
I have so many great stories in my head about Boots, and I hope someday to just sit down and write as many of them as I can, so I can always remember the greatest little cat I've ever had.