My Interests
I have many interests. I'm sure that I'm no different than anyone else in that respect.
Traveling
I went to Europe during 1997. It was great. I saw Paris and London. It was the first time I had been out of the country, and of course there was a language problem in France, but all in all it was wonderful. We did a lot of walking, so when we took a bus tour of the Paris highlights we were able to rest.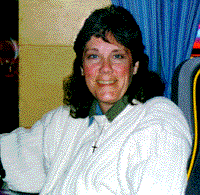 Relaxing on the bus in Paris
The best place we visited in Paris was Napoleon's tomb. Maybe we liked it best because we were leaving the next morning, and we knew we could just kick back and really enjoy the place. We had walked ourselves ragged, and when you push yourself that much it can become very unenjoyable. There was a pretty garden on the grounds and a wedding party was taking their pictures there.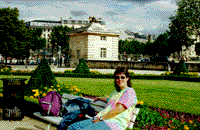 The garden at Napoleon's tomb
After being in Paris, with its remarkable architecture, London was a bit of a letdown. The shopping was cool, and we went to The Mousetrap, an Agatha Christie play which is the longest running play in the world, something like 50 years. I would definitely recommend going to Europe at least once. It really makes you appreciate what you have in the U.S., but it also allows you to learn about historical things too.
A great site to visit for travel information is Rick Steves Web site, he's the one that does a travel series for PBS. He has a well organized site, and a lot of hints about what to do, and not do when you travel.
Another site I'd recommend is put together by the France Tourism office. You can get information about museums and other great places to visit.
Movies
I have always loved movies, and have been fascinated with the process behind the scenes of making a movie. Of course, I've seen plenty of horrible movies, and leave the theater thinking "I could have written a better screenplay than that". I finally decided to write a screenplay myself, and took several classes, including one at Harper College. I found out that it's harder than it seems. I had a great idea for a Columbo (yes, the Peter Falk character) movie. So when I took a class I started working on the "first draft" of the screenplay. I am not very verbose, so what should have been 90 pages (1 page per minute) was instead a 50 page first draft. I finally finished it, and sent a query letter to Mr. Falk. I was fortunate enough to be able to submit it to his office, and was told that it was sent "into development". Mr. Falk has since decided not to continue with production of any more Columbo movies, so I guess nothing will ever happen with this screenplay unless I change some of the characters.
Inventors
Ever since I was a small child, I enjoyed learning about inventors. I was very lucky to have a wonderful teacher in the 4th grade, Mrs. Alters, and one of our assignments was to come up with some inventions. I made some cute little drawings of what I felt the world needed. These included: a machine that a student could feed their homework into and the machine would spit out the answers; a briefcase that when opened would yield a forest so that you could have nature with you whenever you wanted; a spray can that would spray out a cooked turkey (that is an especially good drawing).
I have had many ideas of how to build a better mousetrap since then, and have actually designed and brought to market a gift wrap organizer. It is currently being sold on my website. I found that just because you have a great idea, the hardest part is finding a manufacturer, then the second hardest is marketing the idea. Also, if you go to a patent attorney and he says your product isn't patentable please go to another patent attorney to make sure. I wish I'd done this, as there are several iterations of my product now on the market and I don't make a dime off of them.